​Info for the season April-October


​​LFM- outdoor market on grounds of 30 acres, with huge assortment of items to find & buy for home, garden, work, pleasure, personal wants & needs.

​Shopping hours are dependent on good weather. Check site or call office 603-883-4196, on a day of inclement weather for changes.

There are regular vendors that you will see the entire season that bring in new or different items to add to their inventory.
There are the weekend sellers, many of them yard sellers being there one time only to sell items no longer needed.
​
Some days you'll find just what you came for, while other days you may find something else, perhaps a treasure!



​yardsellers- organize, group, & box your unwanted items & bring them to the market to sell for many more customers. Recycle for $ & let someone else have your unwanted items. Take advantage of the free* selling space 1st time deal.
​​
​
vendors-space is available for entire season. Give the office a call for details.
​
​small business / entrepreneurs- Promote your business here! advertise, additional exposure, talk w/ customers. Get the free* weekend 1st time deal.

nonprofit organizations (registered 501(c)3)- get free* space every weekend!


​* for details/policies click on menu link "selling info" or give office a call.

LFM office phone number is 603-883-4196​shoppers-make a list of things you'd like to buy before you visit the market.
Bring the list with you to shop as the sellers here, just may have what you're looking for! If you don't see it, ask them as it may just be out of sight.
​
​


​Friendly pets are welcome!
Must be on a leash(max 6 ft) and pick up messes should it happen.

Bring your remote control boat & have fun at the pond!​



​food concessions there are!
Come for breakfast, come for lunch, come & get a snack or drink!
​Enjoy burgers, dogs, subs, fresh cut seasoned fries, & more!
Bring a picnic basket filled w/ your food & drinks and a blanket- have a picnic by
​the pond.

Have a fleatastic day!©
*********************​


​
You made the market the 2021 best place to shop
Antiques & Collectibles

take a look at the 603 magazine, page 61
https://issuu.com/neruspublications/docs/2021b603_flipbook


llllllllllllllllllllllllllllllllllllllllllllllllllllllllllllllllllllllllllllllllllllllllllllllllllllllllllllllllllllllllllll


​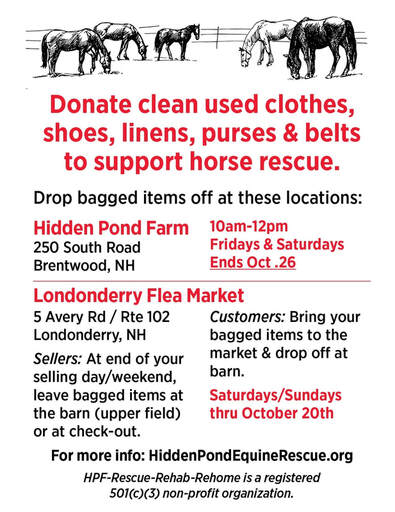 ​




Thank you to all who help by donating to
Hidden Pond Farm, a local horse rescue. -------->





---